The team has reconvened in Athens after getting some rest and relaxation. This week begins the next step in the season; the next rung in the ladder. And it starts with North Texas on Saturday.
One thing we hope this bye week before a cupcake provides is a step toward finding an identity on defense. The goal line stand against the gamecocks was huge and should be a shot in the arm. But as we watch this young unit grow up it'll be important for them to develop some proficiency on which they can hang their hat. Richt alluded to just that
last night
.
Much of the focus for Georgia this week will be on defense, which has yielded 68 points 921 yards, albeit to two tough foes.

"We've got to become better tacklers; we've got to communicate better in the back end, get more pressure on the quarterback," Richt said. "There's just a lot of things that we've gotta get better at defensively."
I think this puts some more pressure on Jordan Jenkins. In two games thus far he has nine tackles, two for a loss and one quarterback hurry. Much was made about him replacing Jarvis Jones in the off season at the much heralded weak side outside linebacker spot. Recording five sacks in spot duty of 14 games last season eased a lot of minds regarding a defense that lost all but one starter, especially Jarvis who tallied 14.5 sacks.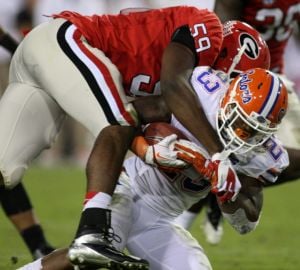 But is it all about sacking the quarterback? Grantham's scheme is built on pressure and creating mistakes. When it works, it's a beautiful thing to behold. It stands to reason we are deeper and more talented on defense than last year. So the question becomes when...when will it all click and we see the quarterbacks under duress, the running backs stuffed behind the line and the tipped passes?
It's something that Grantham himself was asking in the wake of the Clemson loss. While everyone grumbled about the missed tackles and the rushing yards given up, Georgia's defensive coordinator was more concerned with the -1 turnover margin.
And I agree, as that is the fuel for Grantham's defense. We saw it on grand display in Jacksonville last November. It's been one of the biggest and most pleasant surprises with the changeover in the defensive staff the last few seasons.
But on Saturday I'd take
stopping the run
with some Junkyard Dawg authority. That'd be a great start towards identifying this defense as one making positive strides.